Mr. Chittaranjan Sarkar
( Non Executive Director )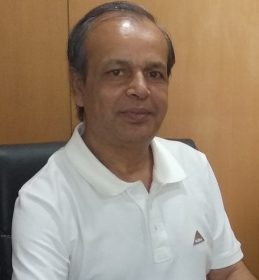 Mr. Sarkar has double Graduation Degree, B.Sc. in Chemistry and B.Sc. Tech. in Chemical Technology. He holds very strong command on Waste Management and Disposal issues & well known for his technical skills.
He has more than 25 Years of Industrial Experience. He has been associated with SMS Group from last 7 years & has been holding Vital Positions. He is the Executive Member of Butibori Manufacturer's Association (BMA).
contact details
PLPLOT NO. P – 13
NEAR INDORAMA GATE NO. 01
INDUSTRIAL AREA MIDC, BUTIBORI-441122
Visited the plant today & discussed the possibilities of expansion & upgradation. Requirement of land for HRTS technology advances were also discussed the running of the plant . All the Best.
I visited the CETP site & the CHWT site at Butibori & was impressed by the progress of work & the performance standards having been set up. I believe these standards are maintained continuously in future & we are able to achieve ISO standards. I wish all success.
After starting this project on 17th June 2006. Now today it is at saturation stage. Therefore now immediately we should take review & prepare a proposed for expansion with the help of MPCB NEERI & MIDC this is one of the best CETP in the state. HRTS is also regularly monitored by NEERI. This is real, good & essential facility to Butibori industrial area.
R.M.Naikade
Dy. CEO(Env.) Midc, Andheri Mumbai.
The plant is maintained upto the work.
Dr. Y.B.Sontakke
Join Director, MPCB, Mumbai.
I visited the plant today & had a detailed discussion about the operation of CETP & HRTS. Though the results are within the boundary, there is an urgent need to plan upgradation because HRTS is susceptible to saturation & expansion is needed. I thank Mr. Malviya & other personal oh SMS Evercare group for their active participation.
Milind Mhaiskar.
Milind Mhaiskar., Member Secretory MPCB
CETP at present is operating to achieve disposed standards. The operations of this CETP have made this 5 Star MIDC to comply with one of the environmental requirement. I congratulate M/S. SMS, Butibori Industry. Association all its members & MIDC for commissioning in record time. There should be constant & regular update of systems based on the operational experience. Please implement on my suggestions. Keep reporting MPCB regularly to ensure proper operation & maintainans of CETP & compliance by member industries. I wish all the best.
Bharat B. Nimbarte
Regional Officer (nq) MPCB, Mumbai.
All units of CETP are operated in a proper way. There is a need to provide sludge drying beds of sufficient capacity. The analysis reports indicate very good performance. Treated waste water must be used to reduce requirement of fresh water. A feasibility study may be carried our in consultation with member industries & MIDC. Overall the performance is excellent. All the best.
Ashok B. Jain
Sr. Law Officer, MPCB, Mumbai.
Visited the CETP & CHWTSDF site at Butibori & was awe-struck with the progress & learnt about the plasma technology. The presentation was also very impressive & the progress is very satisfactory & if maintained will help for bright future of this industrial area. I wish this programmed a great success.
S.L.Pimpalkhute
C.A.O., MIDC.
Since I have seen the earlier condition of certain units of CETP'S I am enlightened to see the present engineered well planned CETP. The efforts taken by M/S. SMS Ltd are highly appreciable. The various unit operations of CETP have been commissioned in record time. The laboratory of CETP is one of the best amongst other CETP'S with good record keeping.
S.B. Patil
Superintendent Engineer., MIDC, Nagpur.
This is one of the very rare CETP which is meeting the MPCB'S disposal standards. You donot feel you are in CETP premises when you visit this CETP. My best wishes for continuing good work.
S. D. Dhote
Chief Engineer, MIDC, Mumbai.
Visited The CETP & is very much impressed to see the quantity of treated water. The HRTS system is also very well developed & plantation is also growing nicely. Of M/S. SMS is capable of giving further treatment the recycle of treated effluent even be make possible. I wish very success to CETP In future.
Visit at CETP & it is seen that laboratory & plant is maintained.
Shri Mandloi
Ex. Engr. MIDC, Nagpur
Visited CETP plant & seen the operation of CETP & that is maintained very nice. All the equipments functioning. The Staffed engaged is well aware about the operations &regulations norms. & has given variable information. All the best.
J. C. Salunkhe
Ex. Engineer, Midc, Nagpur.
All the UG & PG students along with staff members have visited CETP. The plant is maintained nicely & all the staff have encouraged studunts for higher studdies. All the Staff have adequate knowledge & fourd to be satisfactory. I Congrate to the Director Dr. Kishor Malviya for new venture & sharing knowledge with students.
Dr. P.U.Meshram.
Head of Dept. of Env. Science, Sevadal science College, Nagpur.
Very well managed plant. It was very informative & important visit for our students as they came to know various processes involved in treatment of effluent water. Thank you very much for your kind cooperation.
Mrs. M.Pande. R.S.Munale
Eng. School, Nagpur
The plant is well maintained & is found to be very useful for our students. Thanks for the cooperation.
Dr. R.K.Rai & 46 Students of B.Tech/M.Tech. Covt.
COE, Amravati.
Staff is cooperative, functioninf is good. Understanding of staff about the functional unit is appreciable.
Prof. V.M.Thakur
JDCOEM, Nagpur